Dan Falley - Phases
A biography by Preston Miller
click thumbnails for a larger image
---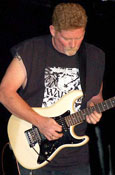 Dan Falley
I've been asked to write down memories that spanned 19 years of my good friend Dan Falley. The man that I knew and loved was a person whose massive creativity drove him to recreate himself on a regular basis. I will do my best to record the phases that I can recall and try to put them in a chronological order. Here's how we met and how our relationship started. And ended.
Phase One: Dan Falley as a musical force.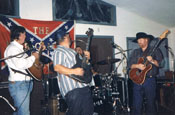 Original "High Caliber Band"
I'd heard Dan's name through his reputation as being a monster lead guitar player. This was exactly the type of person that Randy Beach and I were looking for as we were forming a new band called High Caliber. The object of the band was to start with local gigs and evolve into a band that did state fairs and high end corporate functions trying to make a decent living playing music. After finding our drummer, (John Toda Sr.) Randy and I went to Midwestern Music to try to recruit Danny. After playing a few songs, we had Danny's attention and he decided to give us a whirl. We rehearsed for a few weeks and started booking. Upon hearing Dan play for the first time, my wife Brenda told me that Dan was a "Quiet Genius", I've laughed about that many times, not because of the word "Genius" but because of the word "Quiet"... which Danny wasn't.
Phase Two: Discovering Danny as a friend.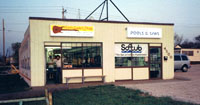 45th & Topeka Blvd
After around 18 months or so with High Caliber, Danny got bored and moved on. I was in and out of touch with him until we decided to split a building and open a couple of retail shops at 45th & Topeka Blvd. I found great delight in getting to know Danny on a day-to-day basis. He was cool, funny and most of all he was unpredictable.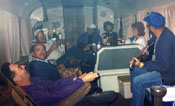 Danny's bus - 1997 (Preston & Danny are in the back)
During this time Dan lived out back in a converted school bus and we held small party's every Friday night for our buddies. Those were good times; we played poker, drank whiskey and told lies. After several years I sold my business and for the next three years Brenda took over our half of the store opening "Lil Rascals". During this time, Danny became her "big brother protector" and checked on her safety many times during the day. However, one day she was robbed while Danny was sound asleep in the back room of the guitar store! Dan just couldn't believe he slept through the whole thing. Brenda and I both remember many cold winter days listening to Dan play his guitar for hours by himself on his side of the store. Those were times he played only for himself but, because of thin walls, we were able to listen to the "quiet genius" in a very special way. For a short time near the end of this phase Danny became an advocate of AMWAY & quit smoking. That was an unpleasant time as he was relentless on both of us.
Phase Three: Cowboy Dan.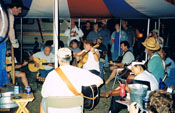 Pickin parlor 2003 (Dan's facing the camera in the center, white shirt)
Next Dan morphed from a rock lead player into a classic country lead player. He played the Burlington Opry (Burlington Jamboree) and got me involved in a music scene where you relied totally on your ears to make it though the show. It turned out to be one of the high points of my life. Strange as it may seem, Danny has hundreds of fans that knew him only as "Cowboy Dan".
Phase Four: Falley - The Movie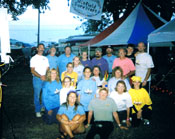 Group shoot from around 2000
After Danny stopped doing the Opries, he turned inward. Dan took a movie home every night and enjoyed cooking a good meal from his garden. That's all he did. He drove to rural Mayetta, fed his animals and plugged a video into his entertainment center. During this period he ran lights and some sound at local Opries but rarely played. Many weekends, when the weather was good, we'd camp and fish at Osage lake. We'd stayed up most of the night and hope the fish wouldn't bother us! For years, every September, Dan and many close friends spent a week at a Bluegrass festival camping and playing music with people from all over the US. For the first few years, his camper was his bus, which was usually the gathering place for good conversation and music.
Phase Five: Wild Man Dan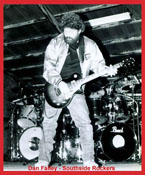 Danny with the Southsde Rockers opening for Black Oak Arkansas
I'd heard of this monster lead player back in the day. Now I'm watching from the side lines as my old friend whales the blues and inspires the angels with his "Quiet Genius" at 110 DBs. Dan and I didn't see each other much during this phase but we both knew where the other guy lived.
Then he was gone.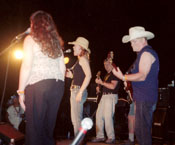 Danny with his group Fyrestorm
Danny taught me about the "sprit of music" and how to "play off of the chord". Brenda and I were both challenged and inspired by Danny. We wouldn't trade those memorizes for gold. When Dan died, we took in his favorite cat, Cowboy. Much like Dan, Cowboy is very entertaining; he likes attention and is very demanding when his food bowl is empty! Like an ol'e friend, he's made himself right at home.

God's speed Danny,...
Preston & Brenda Miller